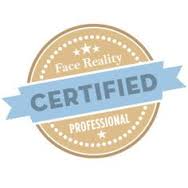 Needing a little more in your skincare? No worries, we are also excited to have our own Face Reality Acne Specialist to help those who struggle with the effects of acne at any age.  Tasha is our certified Face Reality Specialist who treats acne, rosacea and hyper-pigmentation with a combination of in-office treatments and managed home care with custom-formulated specialized products. We get far better results than traditional methods of using antibiotics and dangerous drugs, such as isotretinoin (Accutane). Our modality is far less expensive and far more effective than medi-spa treatments such as laser and LED Light therapy.
How does our system work?
Our system works by taking into account the type of acne you have, the type of skin you have and how fast your skin adapts to products. We keep pushing the skin to clear with products that penetrate the pore where acne starts. We don't push it past its tolerance however, because we don't want your skin dry and irritated. The products prevent the new acne lesions from forming; we extract the existing acne lesions out and in about three months your acne is under control.
What is going to happen in the appointment?
It depends on whether you get just a consultation with us OR you get a consultation and treatment with us. The consultation by itself is $55. If you, however, come in for a treatment, which is $65, the consultation is free. This is what to expect from your first appointment:
   1    We consult with you regarding your experience and your prior treatments
   2    analyze your acne
   3    give you mounds of useful information regarding products and diet, medications etc.,
   4    take some preliminary pictures,
   5    test your skin for sensitivities,
   6    make product recommendations and show you exactly how to use the products (and, if you are getting a treatment),
   7    do the treatment, which includes exfoliation and extractions
What are the treatments like?
We either do a very mild chemical peel on your skin or we do a gentle enzyme with steam. Generally speaking, neither of these are uncomfortable or will make your skin visibly peel or there might be very mild peeling. We then do extractions of your acne.
Do the extractions hurt?
For most people, there is a slight discomfort but it's very tolerable.
Why do the extractions?
It's the fastest way to get clear – we extract the current lesions out and the home care prevents the new ones from forming. It takes up to 90 days for acne to form and come to the surface, so in the three months that we are working with you, you will have some breakout. These are just old lesions coming to the surface that we extract every two weeks.
What do the peels actually do?
The esthetician can explain more about that in your appointment. Our high quality blended corrective peels have multiple purposes including thorough exfoliation, softening of comedones and they lighten dark spots. They also prepare the skin for maximum absorption of our homecare products. They can actually help with signs of aging, as well.